Burns Night, on Friday, 25 January, will soon be celebrated by Scottish people. Burns Night celebrates Robert Burns, the most famous poet, in Scotland and on his birthday; he died, aged 37, on the 21st of July 1796.
Burns Night Celebration
One of the common ways of celebrating Burns Night is by having, a pretty traditional meal, the Scottish Haggis. The Scottish Haggis is a type of savoury pudding, and its main ingredients are onions, stock, liver, heart, lungs, oatmeal, salt and spices; traditionally cooked in sheep's stomach, but most haggis, these days, is prepared in artificial sausage casing.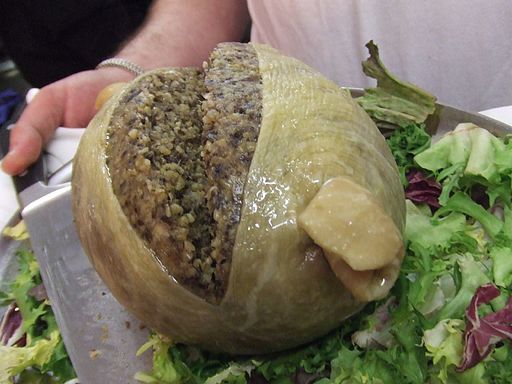 Haggis is a savoury pudding containing sheep's pluck [Tess Watson [CC BY 2.0 https://creativecommons.org/licenses/by/2.0, via Wikimedia Commons]
Therefore, it can be agreed from its appearance, that it may not acquire the privilege of the most elegant dish, but is known to be undeniably delicious! Scottish Haggis is eaten, traditionally, with tatties (mashed potatoes) and neeps (mashed turnips).
By Simon James [https://creativecommons.org/licenses/by-sa/2.0/] With a glass of non-alcoholic ginger wine…Reading a poem on her phone…
Did you know, according to a leading food historian, Haggis was invented by the English. Gervase Markham in 1615, an English poet and writer, said that it is very popular among all people in England; however, Haggis is now renowned as Scotland's food mainly due to Robert Burns, who made it famous.
The Burns Night Evening Run
Furthermore, in a traditional style, many people follow an official running to celebrate Burns Night; with poems, music and speeches at specific times.
A Quite Burns Night Evening
Further, others might choose to have a quieter evening with some poetry reading.
A Louder Burns Night Evening
Moreover, for louder evenings, there is dancing with traditional Scottish tunes played on bagpipes.
Master Pur L Food A – Light, FDA Approved, Anti-Static, Pharmaceutical & Food Hose
(Our Best Selling Hose)
Food Hose Food Quality, Antistatic, Polyether Polyurethane, PU, flexible hose and flexible ducting, reinforced with embedded stainless steel wire helix. PU wall thickness 0.7mm
Description
• Food Quality, Antistatic, Polyether polyurethane hose
• Reinforced with embedded stainless steel wire helix
• PU thickness = 0.7mm
Properties
• Halogen and plasticiser-free
• Extremely flexible
• Highly abrasion resistant
• Nearly smooth bore
• Light/medium duty
• FDA approved
• Antistatic surface resistance ≤ 10 to the 9 Ohms
• Microbe and hydrolysis-resistant
• Odourless/tasteless
Applications
• Transportation of solid, liquid and gaseous media in the food, pharmaceutical and chemical industry. Where antistatic properties are of prime importance.
Colour
Clear
Size Range
32mm to 200mm
Temp Range
-40ºC to +90ºC (intermittent to +125ºC).
Options
• Special diameters
• Other lengths available on request
Download Data Sheet – PUR L Food A